A Serene Seaside Hideaway
Plunge Beach Resort
Sink in and drift away at the peaceful oceanfront playground that is Plunge Beach Resort. This laid-back retreat is a timeless Lauderdale-by-the-Sea locale, combining the retro style of South Florida shores with fun new trends and hotel features. From the seaside Backflip Beach Bar & Kitchen to the bohemian beachside bungalows, the gentle charm of Fort Lauderdale breeze and seas awaits you.
Booking Direct is Best
For outstanding value and flexibility, click "Book Now" above to book direct and enjoy. 
Daily parking fee waived for one vehicle
Complimentary room upgrades*
Early check-in (12 pm) and late check-out (1 pm)*
*Based on availability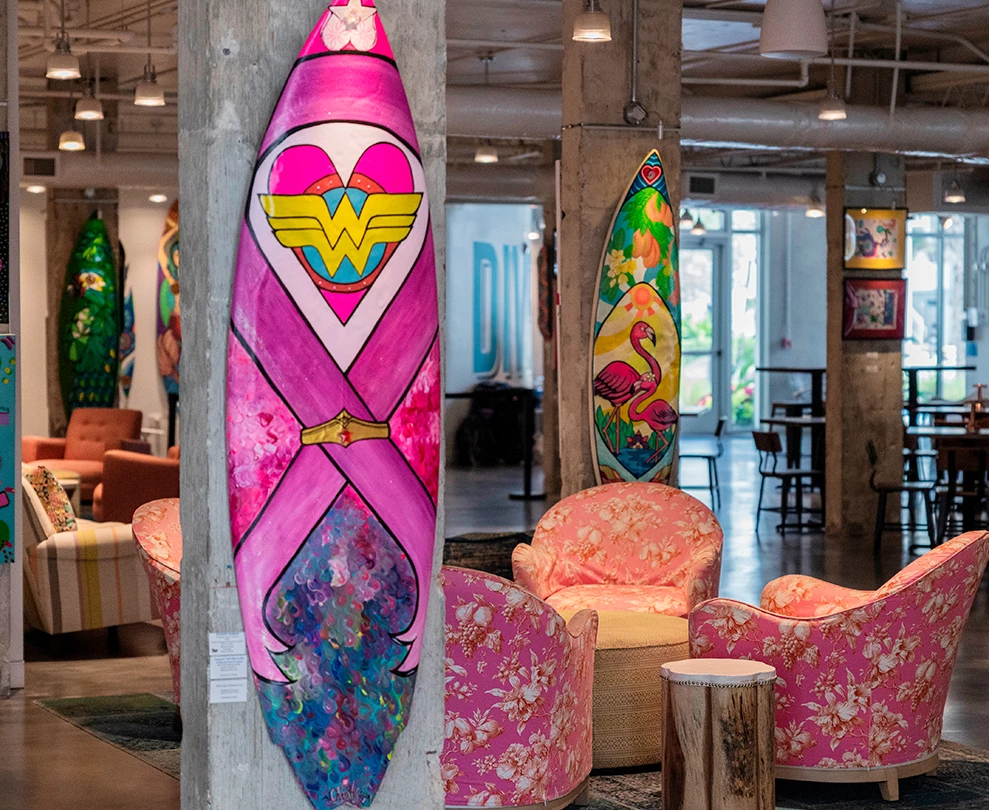 Plunge Into the Arts
Looking for some creative inspo? Visit our Lobby Art Gallery during your stay to experience works of art created by local artists that are unique, fun, thought-provoking, quirky, emotional and edgy, as part of our Plunge Into The Arts Program!
Learn More
ACCESSIBLE TRAVEL & INCLUSION
We welcome guests of all abilities and believe that it should be easy for all people to take the Plunge!
See our commitment
Beach Location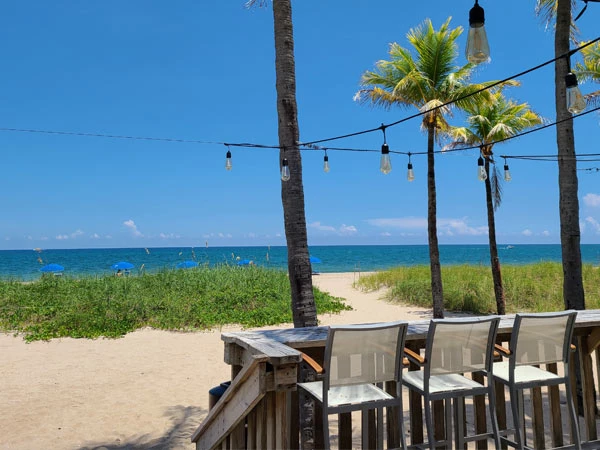 Beachfront Bliss
Wake up to a new day in the South Florida sun and stroll directly onto the dunes. Plunge Beach Resort gives guests the ultimate convenience with its perfect location right on the sand, offering access straight to the ocean.
Activities & Events
Plunge Into the Fun
Discover a unique schedule of weekly events to keep the good times rolling during your stay. Past events included beach BBQs, yoga on the beach, live music, DJs, artist open houses, dog friendly happy hours & more.
Accommodations
Comfort on the Coast
Get some rest in a well-appointed guest room or seaside bungalow. With charming beach amenities and pristine views of the Atlantic Ocean, accommodations at Plunge Beach Resort offer a supreme stay in Lauderdale-by-the-Sea.
Dining Options
An Array of Restaurants
Sip on a freshly brewed cup of locally sourced coffee at Bean & Barnacle as the sun rises. Savor The Best Breakfast in Town at Octopus. Or step into Backflip Beach Bar & Kitchen for poolside tacos, burgers, salads & more.
Stay a
While
It's the fun little details that give the rooms and suites at Plunge Beach Resort their signature flair. Beach balls and chalkboards can be found in every guest room, alongside comfy linens and quirky wall furnishings.
Guests that are 21 and older seeking a more exclusive, relaxing & low-key experience can enjoy a room or suite in one of our beachside bungalows that include Aveda toiletries, luxurious bathrobes and welcome drinks while you kick your feet up between stylish décor and graffiti wall art inspired by the ocean blue.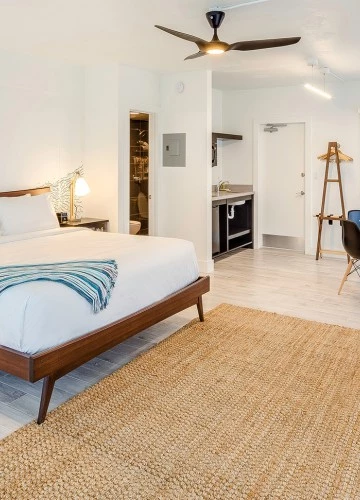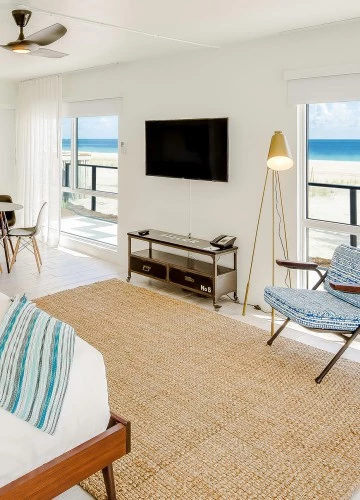 Savory
Moments
Picture yourself waking up with the sunrise, sipping on a freshly brewed cappuccino and snacking on a tasty pastry at Bean & Barnacle. Or, maybe you want to sink your teeth into some Steak, Hash and Eggs while sipping on bottomless mimosas in our lobby art gallery at Octopus. Then… when it's time to unwind and breathe in the salty air, imagine yourself with a delectable plate of street tacos, folding one into a savory bite just before sipping a tropical rum punch underneath rays of golden light as the band begins to play at Backflip Beach Bar & Kitchen. With three on-property dining outlets, there's a tantalizing taste for everyone at Plunge Beach Resort.
Ride the
Wave
Staycation with friends

Our bungalows were clean, sanitized and perfect for the staycation we were hoping for! We were able to watch the sunrise and see the baby turtles head out to sea. I will never forget that!

Spring Break Fun

Really enjoyed the property and the proximity of it to the beach, literally a minute away from the sand… It has a very funky, modern vibe which was awesome… overall a great stay and I'd definitely return back again!

Perfect Vacation!

After having stayed at Plunge Beach Resort on four different vacations, I will continue to be a steady guest in the future. Everything was absolutely wonderful... the grounds, the rooms, the service... and most importantly, THE STAFF!
Tucked Away
On A1A
A little corner of paradise on A1A, Plunge Beach Resort is located just minutes away from the bars, restaurants, and quaint beach boutiques of Lauderdale-by-the-Sea. Walk along the fishing pier and discover live music, kitschy stores, surf shops, and more.